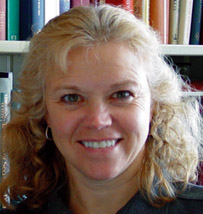 Department of Comparative Biosciences
School of Veterinary Medicine
Madison, WI 53706
608-263-0418
FAX: 608-263-3926
careyh@svm.vetmed.wisc.edu
Emphasis Group:
Human Nutrition
Principal Research Interest:
There are three general areas of research currently ongoing in the laboratory: hibernation biology, modulation of enterocyte physiology by induction of the stress response, and intestinal physiology in piglets.
Research Summary:
Dr. Carey's research program includes gastrointestinal physiology with a particular focus on a natural mammalian model for extreme changes in nutrition and food intake, the hibernating ground squirrel. Her laboratory has identified much of what we know of the changes in intestinal structure and function that occur over the annual cycle of the 13-lined ground squirrel, with specific emphasis on the effects of hibernation on small intestinal structure, epithelial physiology and mucosal immunology.
In addition to basic mechanisms in hibernation and gut physiology, Dr. Carey's research also involves application of hibernation biology to issues of biomedical relevance. With collaborators from the UW Madison School of Medicine and Public Health her laboratory has shown that the hibernation phenotype provides protection against the deleterious effects of cold ischemic injury to the liver, and to warm ischemia-reperfusion to the intestine. Continuing efforts to identify mechanisms responsible for this protection are aimed at developing new therapeutic approaches to reduce tissue damage induced by ischemia-reperfusion in humans and other animals. To this end her group and collaborators have employed physiological approaches along with metabolomics and proteomics.
Other recent projects have included examination of gut-brain signaling pathways in food intake regulation in hibernators and the effect of hibernation on cholesterol and lipoprotein dynamics. Currently, her laboratory is examining the effect of hibernation on the gut microbial community in ground squirrels, and the potential role of gut microbes in shaping the unique phenotype of hibernation that involves massive fattening in summer followed by weight loss in winter, along with gut atrophy and remodeling of the intestinal immune system.
Representative Publications
Hindle, A.G, Otis, J.P., Epperson, L.E., Hornberger, T.A., Goodman, C.A., Carey, H.V., and Martin, S.L. 2015. Prioritization of skeletal muscle regrowth for emergence from hibernation. J Exp Biol 218: 276-84.
Otis, J. P., A.C. Pike, J.R. Torrealba and H.V. Carey. 2017. Hibernation reduces cellular damage caused by warm hepatic ischemia-reperfusion in ground squirrels. J Comp Physiol B 187:639–648.
Carey, H.V. and F.M. Assadi-Porter. 2017. The hibernator microbiome: host-bacterial interactions in an extreme nutritional symbiosis. Annu Rev Nutr 37: 477-500
Kurtz, C.C. and H.V. Carey.  2007. Seasonal changes in the intestinal immune system of hibernating ground squirrels.  Develop. Comp. Immunol. 31:415-428.
Nelson, C.J., J.P. Otis, S.L. Martin and H.V. Carey. 2009. Analysis of the hibernation cycle using LC-MS based metabolomics in ground squirrel liver. Physiological Genomics 37:43-51.
Nelson, C.J., J.P. Otis and H.V. Carey. 2010. Global analysis of circulating metabolites in hibernating ground squirrels. Comp. Biochem. Physiol. Proteom Genomics 5: 265-273.
Otis, J.P., D. Sahoo, V.A. Drover, C.L. Yen and H.V. Carey. 2011. Cholesterol and lipoprotein dynamics in a hibernating mammal. PLOS One 6:e29111.
Carey, H.V., W.A. Walters and R. Knight. 2013. Seasonal restructuring of the ground squirrel gut microbiota over the annual hibernation cycle. Amer. J. Physiol. Regul. Integr. Comp. Physiol. 304: R33-R42.
Dill-McFarland, K.A., K. L. Neil, A. Zeng, R.J. Sprenger, C. C. Kurtz, G. Suen, and H.V. Carey. 2014. Hibernation alters the diversity and composition of mucosa-associated bacteria while enhancing antimicrobial defence in the gut of 13-lined ground squirrels. Molecular Ecology 23: 4658–4669.