A Bachelors of Science degree with the Nutritional Science major focuses on how we utilize food for growth and metabolism in both normal and disease states. This major in nutritional sciences will help you develop a strong background in biology, chemistry, physiology and biochemistry to allow you to understand the mechanisms through which dietary factors act and are metabolized.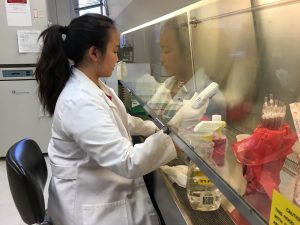 The program offers study in zoology, microbiology, genetics, chemistry, physics, and mathematics along with classes in Nutritional Sciences.
The curriculum in Nutritional Sciences is intended to prepare students towards health graduate programs and careers. The curriculum covers many of the requirements for Medical School, Physicians Assistant programs, Dentistry School, a degree in Physical Therapy and more! In addition, Nutritional Sciences students are well prepared for health-related careers in nursing and nutrition, and graduate study in Nutritional Sciences.
The interdisciplinary nature of nutritional sciences will prepare you for graduate studies in other areas of the life sciences as well. A B.S. in Nutritional Sciences prepares you for work in research laboratories, clinics, or the food and nutrition industry. For further information on job possibilities, see Careers in Nutritional Sciences.
Looking to speak to someone regarding a major in Nutritional Sciences?
Contact: Sara Golla