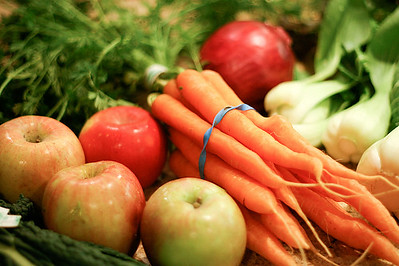 Nutrition for a healthy immune system
We're more concerned than ever about what we can do to keep our immune system strong.  There's no "magic bullet" to do this, so be careful of products promising to be a magic bullet!  But there are healthy lifestyle habits that may help: getting enough sleep, trying to manage stress, getting physical activity, and eating well.
An overall healthy diet is most important, but you can also try to include lots of fruits and vegetables. Fruits and vegetables contain minerals, vitamins and antioxidants that support a healthy immune system. Some of these nutrients are:
Vitamin A found in sweet potatoes, broccoli, carrots, spinach, red bell peppers, apricots, eggs, and foods specifically labeled "vitamin A fortified."
Vitamin C found in citrus fruit, red bell peppers, papaya, strawberries, tomato juice and foods specifically labeled "vitamin C fortified."
Vitamin E found in sunflower seeds, almonds, peanut butter, vegetable oils like sunflower or safflower oil, hazelnuts, and fortified cereals.
Zinc found in lean meat, poultry, seafood, whole grains, beans, and nuts and seeds.
If you are struggling to eat a healthy diet, talk to your health care provider about whether supplements of particular nutrients would be appropriate for you.blo
This article was posted in
Nutrition News
.