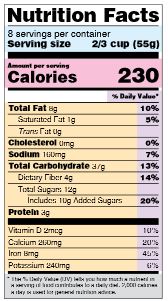 The New Food Label
Have you ever looked at a nutrition label and felt like you were reading a foreign language? Chances are you're not the only one who has trouble understanding what these labels mean. The most recent updates to the nutrition facts panel not only include slightly different information, but they also made the label more reader-friendly.
To start, they've made the panel itself bigger, along with the fonts so that you don't have to squint. They've also bolded certain sections, like the calorie count, so you can read it with just a quick glance.
Some changes may make it easier to eat healthy. Listed serving sizes are more realistic now – for example, a serving of ice cream is now considered 2/3 cup instead of ½ cup (who only eats ½ cup of ice cream?!) In addition, if a serving size differs from the size of the entire container, and it's reasonable that somebody might eat the whole container at once, the label must include nutrition info for the whole container.
A completely new addition is "added sugars".  You now can tell how much sugar is in a product naturally versus how much sugar comes from various sweeteners.  For example, you will be able to see the sugars in yogurt that come from the milk (lactose) versus from sweeteners like sugar (sucrose).
Finally, some of the key nutrients listed at the bottom of the panel have changed. Vitamin A and Vitamin C have been switched out for Vitamin D and potassium. These have now been identified as nutrients of concern among a large percentage of the population, so be sure to keep an eye on the percent daily value to make sure you're reaching the recommended intake!
For more details on the new nutrition label updates, click here. For help reading nutrition labels, click here.
This article was posted in
Nutrition News
.